After a hectic weekend, with Sinner's Circus as absolute success on Friday night (watch for forthcoming blog!), I am just swooping in for a brief update on Avanti Maria!'s UK tour happening this week.
So far the Avanti will be bring our own brand of Catholic noise to Ladyfest Oxford on the 14th and FAG Club in Bristol on the 18th. More dates may be added to the bill so keep watch
here
on our myspace page!
We'll be joined with the amazing
Newtown
and Ducklingmonster!
Also, I will have another tape under my belt upon my return, the going to be amazing Avanti Maria! "Catholic Glitch" E.P. / Album with beautiful inlay artwork - some of which I will share with you now: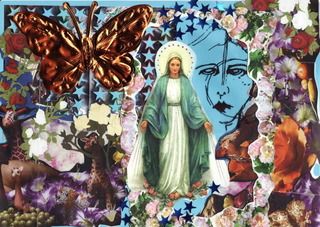 note: Catholic Glitch was a term that myself and Angeline came up with - that magical mixture between Catholic guilt and kitch... oh my heart!
In the meantime, while you all (I'm sure) are waiting impatiently for our Dublin/ Irish dates to be confirmed for July - that's right July 2010 - here are some appropriately Catholic kitch websites of extreme interest...
Amazing electro pop music by two Australian Nun's - "Songs to Ignite the spirit/ Fire of God's Love" LP with free streaming:
http://blog.wfmu.org/freeform/2010/03/two-australian-nuns-turn-on-drum-machine-and-ignite-the-spirit.html
And New Zealand's Virgin in a condom:
http://www.imageandtext.org.nz/votive/votive2.html
MIND, BODY, SPIRIT!
Now... let's WROCK!
Amen.